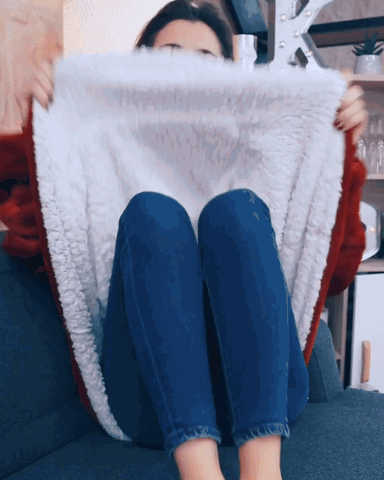 If you like to spend your Sunday smoothly in your favorite series festival right now. then it's time to discover it! This giant hoodie is the softest. most comfortable. and most comfortable in the world.
No more gloomy Sundays hanging out in the living room rolled up in an old blanket with a depressed air: combine unparalleled comfort with relaxed style while staying warm.

With extra-wide sleeves. a giant warm hood and a spacious front pocket. the possibilities are endless so you never have to move from the sofa!

is a giant sweater one-size-fits-all and unisex. Whatever your body type. it offers you unparalleled comfort in any position.
Comfortable and loose: Wear this soft and fluffy blanket sweater. It will not slip. drag on the ground. or completely cover its hands to maintain complete freedom of movement.

The ideal gift: birthdays. Christmas and other holidays. This sweater blanket will delight young and old alike.

One size for everyone: suitable for men. women and children of all sizes.

Easy to wash: No need to wash by hand. it will be as soft as the first day. Machine wash in cold water. dry separately at low temperature.

There is a large pocket to warm your hands and store gadgets.

Outer material-luxurious microfiber
Internal material-high-quality soft Sherpa
100% polyester
Frequently Asked Questions and Answers

Q: Can I machine wash my hoodie?
Answer: Yes. of course. it can be machine washed in cold water and tumble dried only on low heat.

Q: Can it be dried?
Answer: We do not recommend using tumble dryers.

Q: What is the size of the hoodie?
Answer: The length is about 95cm and the width is about 79cm. Here are the exact dimensions.